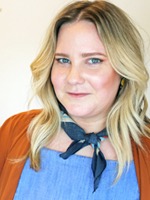 Kelly
Designer 3 Gayton Crossing
Education
Advanced Balayage w/ Jimmy Girgenti
Advanced Men's Cutting w/ Michael Pavlick
Color Splash Haircolor w/ Jimmy Girgenti
Full Spectrum Deep Color Fusion w/ Jimmy Girgenti
Gray Coverage w/ Jimmy Girgenti
New Color Trends w/ Ian Michael Black
New Trends Advanced Cutting w/ Geno Chapman
Pastel Haircolor w/ Jimmy Girgenti
Short Hair Cutting w/ Hauns Korpela
I was working in a coffee shop and feeling very stagnant when I heard about an opening for an apprenticeship at a salon. It turns out it was fate, because I found my niche right away and have loved it ever since. The best part of this career is developing a relationship of trust and understanding with my guests. Nothing beats making someone feel confident with a fresh look. Working with different hair products is another perk of the job!
BIT ABOUT ME I am a self-proclaimed, dedicated optimist. Seriously, if my life were a film, it would be called "What's The Worst That Could Happen?" It would be a comedy with a great soundtrack... and Emma Stone would play me.
Allen
August 08,2019
Awesome haircut!
Rob
August 08,2019
Excellent service!
Rob
July 23,2019
Excellent service!
Elizabeth
July 20,2019
Love the color!! Kelly was great.
Elizabeth
July 20,2019
This was my first time with Kelly. She took time and listened. I will definitely go back to her!!
Joohyun
July 20,2019
Perfect
Joohyun
July 20,2019
Perfect
Cyndi
July 19,2019
Never disappoints! Impressed by her skill and her warmth.
Mariah
July 12,2019
Kelly was so awesome and so skilled! Love her!!!
Mark
July 11,2019
Great haircut!
Erin L.
July 06,2019
Kelly is absolutely fantastic! She takes so much care and is so thoughtful about her recommendations for my hair. You can tell she takes so much pride in her work and service!!! Kelly does and fantastic job and is a joy to be around!!
Rob
July 03,2019
Excellent service!!!
Karson
June 28,2019
Awesome as always!
Charlotte
June 15,2019
Great hair cut. Took time to go out of her way and style it.
Rob
June 14,2019
Excellent service!!!
Paul
May 29,2019
Great haircut!
Lauren
May 17,2019
This was my first time trying both Mango and Kelly - I had a GREAT experience! Salon is clean, modern and beautiful. And Kelly was friendly, knowledgeable and more than anything gave me the cut/style I wanted. Will absolutely return to Mango and book with
Rob
May 16,2019
Excellent service!!!
Tammy
May 09,2019
Kelly is great! She listens first and then does a great cut.
Susan
May 03,2019
Kelly did a great job with my hair and I enjoyed getting to know her.
Kristen
May 03,2019
Wonderful experience! Very kind & talented! Will definitely be returning! She did a fantastic job!
Kristen
May 03,2019
Wonderful experience! Very kind & talented! Will definitely be returning! She did a fantastic job!
Malar
June 26,2018
She is an artist in hair cut
Shana
June 20,2018
Kelly is easy to talk to and always does an amazing job on my cut and color and although I'm sure she's busy, I never feel rushed! I'd recommend her to anyone looking for a stylist!
Sandy
June 13,2018
Beautiful job as always!
Dave
June 07,2018
Kelly is just the best! You will not be disappointed if you book an appt with her!
Carolyn
June 06,2018
Kelly is awesome!
Carol
June 05,2018
She did a great job on the cut and listening to what I wanted.
Christiane
May 25,2018
She surpassed my expectations on the cut and color!!
Lauren
May 18,2018
The absolute best!!!! Kelly is amazing.
Tracy
February 24,2018
Great styling tips!
Stephanie
February 14,2018
Everything! I love coming to Mango!
Carrington
February 07,2018
Very friendly, skilled, and efficient service. Would definitely recommend!
Paul
January 29,2018
Great haircut
Laurie
December 02,2017
From the moment I walked in, I was greeted made welcome, everyone was very nice. The scalp and hand massage was a nice touch. My stylist was very knowledgeable in her craft.
Caroline
November 23,2017
Kelly is fantastic. She listened to what I had in mind and made suggestions based on her experience. She always pushes me to go just a little out of my comfort zone and the results are on point every single time. The color came out beautiful and she spent some extra time making sure my blowout would survive the night and be ready for Thanksgiving the next day. Kelly attends to every detail and makes me feel like a rockstar.
Sandy
November 21,2017
Was able to get an appt convenient for me. Kelly was phenomenal. Listened. Came up with great plan and executed the plan perfectly. I am thrilled with my highlights and cut. Exactly what I was looking for.
Elisabeth
November 04,2017
Cut and styling
Stephanie
October 29,2017
Everything!
Terri
October 19,2017
Communicate, excellent customer service, highly skilled stylist, beautiful clean spotless salon
Amy
October 14,2017
Kelly is awesome. Friendly and Professionally.
Dave
October 10,2017
Kelly always does a great job and is super professional and friendly. Would not go to anyone else.
Sarah
September 29,2017
I love getting my hair cut by Kelly. She does a great job with the cut and styling. I also love the hand massage while I'm under the hot towel.
Logan
September 21,2017
As usual, I had an excellent experience. Everyone was kind and accommodating, and Kelly is so fantastic!
Susan
September 19,2017
Love what she did!
Sarah
August 26,2017
overall a good experience
Lauren
August 25,2017
Great overall experience
Stephanie H.
August 23,2017
Super nice and helpful!
Amy
August 19,2017
Everyone is kind and courteous!
Terri
August 18,2017
The Salon is clean and neat. The staff gave excellent customer service. My stylist is well trained an excellent listener. I was very satisfied with my service.
Kara
August 11,2017
Great service. Renae offered me a complimentary blow dry because she had free time. What a treat!
Arin
August 09,2017
Kelly listened to what I wanted while also contributing helpful recommendations. I ended up with a haircut that I LOVE! Also she's the coolest.
Johanna
July 29,2017
Kelly was very friendly and did a great job with the cut!
Logan
July 28,2017
Once again, Kelly was exceptional! She is so personable and professional. When I told her I was going out after getting my hair done, she offered to curl it for me. It's these little extras that make me highly recommend Kelly, and Mango, to everyone I know. Also, the girl who shampooed my hair (so sorry that I can't remember her name) was fantastic! I was instantly relaxed.
Stephanie
July 24,2017
Kelly was wonderful. I have curly hair that can be difficult to manage when cut short but she talked me through everything as she went along. And the cut was amazing.
Melissa
July 22,2017
Kelly is fantastic. She listened to what I thought I wanted an offered her expertise to achieve the look I was after. The result was the best cut and color I've ever had.
Lauren
July 22,2017
Color is perfect!! I LOVE it! Kelly does an amazing job every time I come!
Nicole
July 21,2017
Able to schedule me with another stylist for a blowout the same day as my appointment.
Sarah
July 20,2017
I was greeted when I entered, offered a drink, and didn't have to wait for Kelly. My haircut was also great!
Kara
July 13,2017
Everything. Great first experience with Kelly. I appreciated the advice re: my color and her recommendation, and I LOVE my cut!
Jeannette
July 12,2017
Listening and following thru what I d hope my hair style would be!!!
Madalyn
July 11,2017
Kelly has been doing my hair for 4+ years now and I won't go anywhere else! I move to New York for 2 years and refused to let anyone do my hair until I moved back recently. That's how good she is! Always worth the wait and she knows my hair and style so well that I trust her completely to make decisions on what we should do every time.
Collin
June 28,2017
Kelly was a fantastic hairstylist. She took my suggestions and adjusted them to what is my favorite cut I've had in memory!! Very pleased with the entire experience. The salon is fantastic and the atmosphere was relaxing. Thank you, I'll be back!
Susan
June 23,2017
Kelly was very personable and easy to talk to. She had good ideas for my short fine hair.
Suzie
June 16,2017
Since moving to Richmond 3 years ago, it's been hard to find a stylist that could properly cut my hair. Kelly has done a REALLY great job and knows how to layer hair properly! She's also very pleasant to work with, which is an added plus.
Jenny
June 14,2017
She is fabulous!! Friendly and knows exactly what to do to make me feel/look pretty!
Sarah
June 05,2017
I loved my haircut with Kelly. It looked great when I left and it looks great three days later. I like that I can style it easily. I told her what I needed (easy and a little shorter) and she cut it in a great way that looks way better than when I came in.
Stephanie
June 02,2017
Everything was wonderful, as usual :)
Callee
May 27,2017
She was great! Very helpful and knowledgeable.
Juliet
May 26,2017
This was the first time I'd been to Kelly because my other hairstylist moved. She was great! I'll be visiting her again soon!
Katie
May 24,2017
nice, amazing haircut
Lois
May 12,2017
Kelly is a dream! She is an expert colorist and stylist. And she really cares! Most important! !!
Betsy
April 29,2017
Kelly did a superb job on my hair- Seven hours into the evening it still looks awesome- She also Gave an excellent scalp and hand massage/I left feeling great!
Sarah
April 25,2017
She asked me about what I wanted and even did a fun style for the rest of the day. Too bad it was a gross day out and I forgot my raincoat.
Michelle N.
April 20,2017
Kelly was very personable, spent a lot of time on my shampoo, did a great job with my hand massage. I love my style...exactly what I asked for and perfect for the professional headshot I am taking today.
Morgan
April 20,2017
Kelly is awesome
Logan
April 17,2017
My entire salon experience, from the moment I walked in the door, was wonderful. The girls at the front desk were genuinely kind and extremely attentive. Kelly was fantastic- throughout the consultation, the scalp and hand massage (can I get that every day??), the cut and styling...she paid such particular attention to all details, really listening to what I wanted while making professional suggestions. I am already recommending the salon to friends, and I can't wait for my next appointment!
Diane
April 13,2017
Kelly does an amazing job. Love my hair.
Betsy
April 13,2017
Kelly did a great job with my hair-it looks terrific- Also enjoyed the relaxing scalp massage with shampoo and the hand massage!
Stephanie
April 06,2017
From when I walk in to when I leave I feel welcomed and valued :)
Lindsay
March 21,2017
We love Kelly! She made my daughter look great!!!
Michelle
March 18,2017
Kelly knew her stuff! She was confident and knowledgeable as well as honest about what styles would work with my hair type. She gave honest advice about products and taught me as she styled!
Amy
February 10,2017
Great place and stylist.
Nicole
February 04,2017
Everything! Your staff was friendly and helpful. I was a walk-in on Saturday morning and Kelly fit me right in. She is fantastic.
Stephanie
December 07,2016
Everything is always wonderful :)
Audra
November 28,2016
Kelly is amazing!
Jenny
November 07,2016
It was great to make the appointment online. Plus Kelly rocks!!
Stephanie
October 28,2016
I always enjoy my experience at Mango salon- keep up the great work!
Linda
October 22,2016
Kelly is great.
Mary Jane
October 18,2016
Always LOVE my Kelly M. She gets me, and she gets my hair!
Marianne
September 22,2016
Kelly did a fantastic job drying my thick, frizzy hair. She was running a bit late and Emily called well in advance to let me know to arrive a bit late. That was hugely helpful because I was running way behind this morning.
Laura
September 21,2016
The atmosphere is great. The stylists are very professional and treat all clients as if they are VIPs. My last salon was in Chicago and I would put the level of attention to detail and service on par with some of the best salons in Chicago.
Robin
September 16,2016
Very happy with my cut I was well treated and everyone was friendly
Marti
September 14,2016
My haircut/experience with Kelli was the best I've had ever! She did a wonderful job.
Linda
September 13,2016
Kelly was very friendly. She explained my options and gave me a great haircut.
Danette
August 31,2016
I love my stylist! The front desk personnel are always friendly and helpful. The salon is always clean, bright, and stylish!
Erin
August 12,2016
The booking process was extremely easy. I was contacted within 24 hours regarding available appointments. Kelly was the stylist I had the pleasure of working with yesterday. She literally transformed my appearance. Even though treatment during my hair wash was phenomenal. I felt like a princess.
Mary
June 16,2016
Everything was great, as usual!
Dave
May 26,2016
great experience. thanks!